Inflatable life jackets are less bulky than traditional life jackets and more comfortable to wear. When not inflated, the bladder is compact and lightweight. Inflatables come in a variety of performance ratings.  The specific rating of a life jacket is determined by characteristics such as its amount of buoyancy, in-water performance and type of inflation mechanism.
The top five considerations when choosing an inflatable Lifejacket are: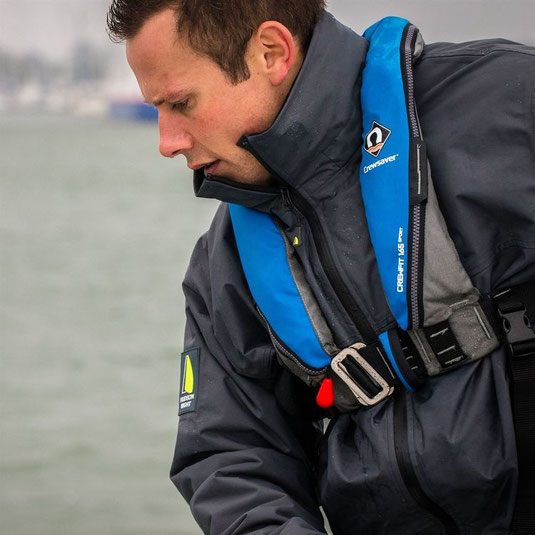 The top five considerations when choosing an inflatable PFD are:
1. What activities will you be doing?
Inflatable lifejackets are exceptional for almost all Yacht sailing, powerboating and many water activities.  A few exceptions where inflatable life jackets are not ideal are:
In water activities – Activities where you expect to be in the water. This includes, dinghy sailing, PWC (personal watercraft), windsurfing, and kayaking.  You are better off having the buoyancy of a traditional foam flotation Buoyancy Aid (50 Newtons) when you could be repeatedly entering the water, and repeatedly need flotation.
High speed activities – If thrown from a boat while traveling at high speed. Inflatable life jackets are not for high speed impact with the water. This is when you should be looking at buying / wearing an Impact Buoyancy Aid (50 Newtons)
2. How much flotation will you need?
Life jacket buoyancy is measured in Newtons. When shopping, pay attention to the numbers provided.
150 Newtons of buoyancy is the standard minimum. It is sufficient to keep most people afloat with their mouth comfortably above the water.
For offshore and coastal activities, where sea conditions can be severe and rescue can take longer, 165 Newtons + would be more suitable.
3. Should it Automatically or Manually inflate?
Inflatable life jackets come in manual or automatic inflation styles.  Automatic styles inflate when wet or submerged under water. Manual inflation requires pulling a tab or handle attached to the CO2 cartridge in order to inflate.
Automatic inflation can be important  if an accident occurred leaving you in the water as when you suffer from the shock of entering the water unexpectedly or in low water temperatures you don't want to be rooting around trying to find the inflation tab.  In addition if you are unconscious in the water, manual inflatables are of no use. Then sea water temperature in the UK never gets warm enough to not be at risk of cold water shock and hypothermia (even in the middle of summer!) 
4. What type of inflation system should it have?
Manual – requires you to consciously pull an inflation tab or handle to activate the CO2 cartridge and inflate the vest.
Automatic with Bobbin – Automatically inflates when in contact with water.  These use a paper capsule that releases the firing pin when it becomes wet.
Hydrostatic Automatic – Automatically inflates when submersed in water (water pressure activates the CO2 cartridge).
5. Will you require a crotch strap?
In our opinion this shouldn't even be a question, if you're savvy enough to wear a lifejacket then purchase an inflatable life jacket with a built in crotch strap. You can also buy these independently to retro fit for as little as £4.00. Pls read our article on the benefits of using a crotch strap if you have any queries... 
lifejacket types & inflation methods:
Manual
A manual life jacket only functions when you pull the tab / bobbin which requires you to be 'able and concious' to do so.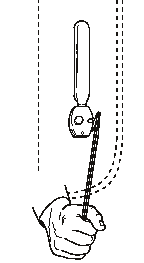 Automatic
An automatic inflatable life jacket will automatically inflate when the life jacket is submerged in at least four inches of water, either when a small tablet dissolves in water and causes the inflator to activate or when using an internal water pressure gauge that activates the inflator.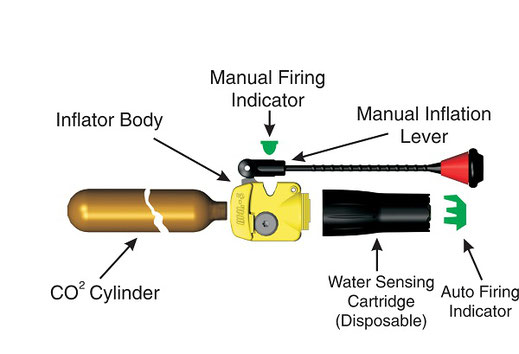 Hydrostatic
The Hydrostatic Automatic system is activated on water pressure. It has a hydrostatic valve in place of the bobbin or cartridge. When submerged in at least 10 cm of water, the hydrostatic valve is activated, piercing the CO2 cylinder and allowing the air to inflate the bladder of the lifejacket. The cutter allows the CO2 to travel through the CO2 gas hole in the inflator head and inflate the lifejacket. Unlike the other two systems, the
CO2 cylinder is positioned inside the bladder.
The Automatic system is backed up by a manual override, which allows the user to pull the handle and inflate the lifejacket. All lifejackets also have a third oral inflation tube.
---
optional extras:
Crotch Strap

Spray Hood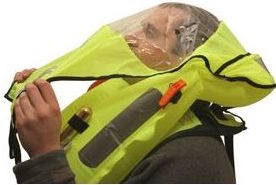 ---
parts of a lifejacket:
Example of parts of an automatic lifejacket with fitted spray hood