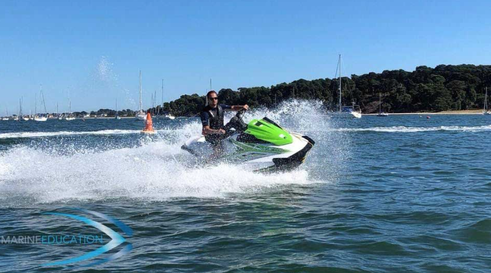 No, not in the UK.. 
UNLESS - you are under the Age of 16 years, in which case many areas will not allow you to launch / use your Jet Ski without an RYA PWC Proficiency Certificate. 
OR UNLESS  you're planning to use or ride a jet ski in Europe where many countries require a jet ski licence. Details on Worldwide Jet Ski Regulations and Jet Ski Licence Requirements can be seen at our sister site: https://www.superyachtpwc.com/jetski-regulations/
Aside to the above, its worth remembering that you are legally required to know the International Regulations for Prevention of Collisions at Sea (IRPCS) or better know as rules of the road.. this is one of many important topics covered on the RYA PWC (jetski) proficiency course. 
Amongst the many useful things you will learn, obtaining your RYA PWC Proficiency Certificate (sometimes known as the RYA Jetski license) will allow you to apply for an RYA International Certificate of Competence (I.C.C.) which means you can rent, hire, or operate a jet ski in Europe.. BONUS! So if you're planning on adventuring away on holiday in the Med this will allow you to ride a jet ski in the crystal clear warm waters that it provides.. I know, i know, sometimes the UK also provides this for us, but somehow its not quite the same is it.. 
Our jet ski courses allow you a significant amount of time riding one of our Yamaha Waverunner Jet Skis, two of which are brand new 2020 models!! The course usually runs from 09:30 - 5pm with approx 70 - 80% of the time spent afloat.. we generally keep our course numbers to a maximum of 4 , with maximum of 2 people on each jet ski so you will have plenty of time in control of the craft throughout the day. 
You will cover both slow speed and higher speed handling along with all the necessary safety skills like towing, man overboard recovery, rules of the road etc. There is a little classroom / theory work too but this is usually completed over a natural break (like lunch) and is very informal, this usually takes between 1 to 1 hour 30mins. The classroom sessions covers additionally important subjects like buoyage (the signage of the sea), chart work (sea maps), tides (so you don't get stuck in the mud) and weather (so you don't get caught out in horrid weather). 
FYI: the minimum age to participate in an RYA Jet Ski course is 12 years old !! 
If you want to find out more about the RYA course check out this link for more information, prices and our course dates: https://www.marine-education.co.uk/rya-jetski-course/