What is Cold Water Shock?
The first state of a sudden / unexpected immersion in water resulting in a sudden gasp for breath followed by rapid breathing.
Cold shock (0-3 mins): Sudden lowering of skin temperature
What happens? 
Gasp reflex,
Sudden lowering of skin temperature causing sharp increase in blood pressure (risk of heart attack),
Hyperventilating (risk of drowning)
What is immersion hypothermia?
Occurs when your core body temperature drops below 35 degrees centigrade. 
Immersion Hypothermia (3-30mins): Body temperature drops below 95º F. (35º C). 
What happens? 
Cold symptoms,
cramps,
possible unconciousness,
eventual heart failure or drowning. 
Survival time:
At risk in water under 25c

UK summer sea temp 

= 14 – 18c
Survival time = 2.5 – 9hrs

UK winter sea temp

 = 6-8c
Survival time = 45mins-2hrs 
Naked = 26x greater body heat loss
Heat loss increased by swimming
Best response: H.E.L.P. position, HUDDLE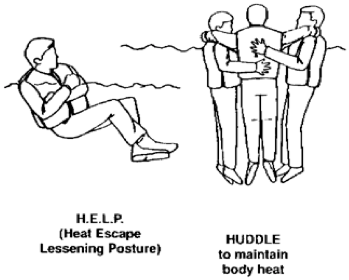 Possible Signs & Symptoms:
Slurred Speech
Shivering
Slow breathing
Slow Heart beat
Confusion
Muscle stiffness / Swim Failure
Cold Skin
Lowered body temperature
Heart failure ( a sudden rise in blood pressure can be fatal for people with pre-existing heart conditions)
---
How to treat immersion hypothermia as a first aider?
Remove from cold environment
Check ABCs
Prevent further heat loss
Gentle handling
Slow re-warming
Cardiac arrest/ drowning – CPR (traditional vs. drowning)