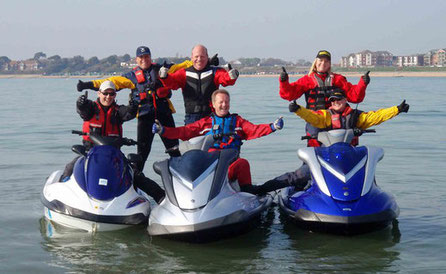 If you're considering booking onto a jetski instructor course or preparing for a course you've already booked then the information below will hopefully help you get ready to ensure the best possible outcome :) 
Firstly, we will start with pointing out one of the most common Action Plan points on the completion of an RYA PWC (jetski) instructor course.. which is background knowledge.. not specifically in PWC but instead in items such as basic chart work, navigation planning, buoyage, weather, tides and rules of the road.. many exceptionally experienced PWC riders attend instructor courses and there is absolutely no faulting their riding skills but unfortunately they have simply not got the background knowledge required to support the course and deliver the theory aspects. If you're already a competent rider, the best advice we could give is to spend extra time studying the theory..  If you're unsure about your level of background knowledge or not great at 'self-study' then perhaps consider completing the RYA Essential Navigation & Seamanship Online Course, this will bring your background knowledge up to the level required for the RYA PWC Instructor Course. 
Firstly, ensure you have the right RYA Jetski instructor course pre-requisites:
Minimum Age: 16
Valid First Aid Certificate
Current RYA Member 
At least 2 years of PWC riding experience (or 1 full season)
Pre-Course Planning & Study:
Ensure you have had an opportunity to get out an practice your on-water riding skills, in particular close quarter manoeuvres such as coming alongside, Man Overboard recovery, Towing etc. 
As importantly is checking your background knowledge is up to speed.. 
Example Course Program:
| | | |
| --- | --- | --- |
| Day 1 | Day 2 | Day 3 |
|  Course Overview & Structure |  Deliver pre-prepared shorebased sessions | Introduction to the Moderator  |
| Qualities of an RYA Instructor  | On-Water session delivery  | On-Water Session Delivery (ideally with 'real students') |
| Information about the RYA Scheme |   | Delivery of shorebased sessions |
| Teaching Styles |   | Information about RYA recognition, issuing certificates etc |
| On-Water Session Delivery |   |   |
| Shorebased Session Delivery Skills |   |   |
Required Course Options:
Supporting Courses: